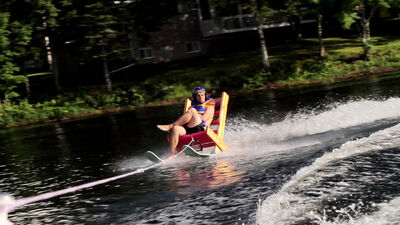 The Chair-Ski
(project) is a DIY construction project completed by
Andrew
and
Kevin
in a
Season 1
episode of
the same name
.
Construction
Edit
There were two designs for the Chair-Ski though only one, "Plan B", was ever constructed.
"Plan A" also known as the "Mark I", was to have been constructed from polyvinyl chloride (PVC) plumbing pipe and fittings. The brothers chose PVC for its buoyancy, slight flexibility and lightness. They abandoned "Plan A" however, when Andrew discovered that the local hardware store was closed on Sundays.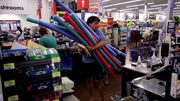 "Plan B" also known as the "Mark II", was a backup plan devised by Andrew after the initial failure to secure the PVC pipe and fittings for "Plan A". The only store that Andrew found that was open on a Sunday had dearth of plumbing supplies. He was able to purchase polyethylene foam pool noodles and hardwood dowels. These materials were put into use along with cedar dimension lumber the brothers had at the cottage.
Ad blocker interference detected!
Wikia is a free-to-use site that makes money from advertising. We have a modified experience for viewers using ad blockers

Wikia is not accessible if you've made further modifications. Remove the custom ad blocker rule(s) and the page will load as expected.