Amphibious Hot Tub is the eighth episode of the first season of Brojects. It premieres on Cottage Life on May 15th, 2014.
Growing up, "hot tubbing" meant a bathtub in their front yard fed with a garden hose. Inspired to set things right, brothers
Andrew
and
Kevin Buckles
,  get to work on designing and building the ultimate cottage hot tub. With a lust for unobstructed nighttime stargazing,
Andrew
  pushes his brother towards making the hot tub amphibious so they can float out onto the lake in style to view the stars. With their life jackets and frosty drinks loaded on board, the boys set sail for the adventure of a life (or death) time.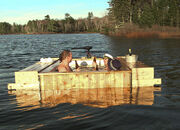 Production
Edit
Created by Andrew Buckles and Kent Sobey
Produced by Kent Sobey, Andrew Buckles, Howard Ng
Directors of Photography: Cam Erais
Sound Mixer/Editor: Dino Cuzzolino
Sound Recordist: David Richardson
B-Camera Operator: Ian Carleton
Camera Assistant: Pat Campbell
Production Manager: Alex Coles
Production Cordinator: Jenna MacMillan
Construction Coordinator: Tyler Ryan
Head Carpenter: Shane Delorey
Production Assistant: Chris Coles
Post-Production Manager: Jenna MacMillan
Assistant Editor: Christopher Martone
Colourist: Kevin Kirchner
Motion Graphics/Titles by Jamie Spurway
Publicity/Digital Marketing by Julie Giles, GreenHAT Digital